Full Service Promotional Products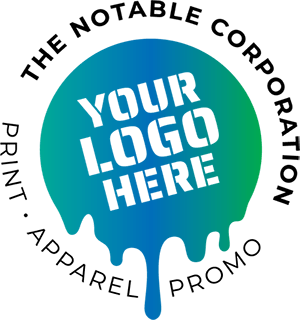 The Notable Corporation has for more than four decades provided friendly, personalized customer service in fulfilling business and higher education needs for printed forms, promotional goods, and branded apparel. Trust our team to help your team get the job done, connect with customers, and look good while doing it!
The Notable Corporation has been western New York-based and family owned and operated since 1976. Our team is committed to developing the type of client relationships that make it possible for us to provide our signature personalized, local service.
Get in touch to support a local business that's focused on you.
What is your need?
Are you planning an event or celebration? Saying "thank you"? Or supporting your customer's operations? Let's talk about you, and how you are trying to serve your customers.
we do the research & present our recommendations.
Our team of experts cuts through the noise of thousands of products to offer a selection that meets your needs and supports your brand.
Make your choice.
Preview a variety of options that consider your budget, your customers, and your overall goals.
Relax and wait for delivery.
Once you approve your proof, we take care of placing orders and tracking shipments, which are delivered to your door.
Hours
Monday-Friday: 8 am to 4 pm
—

print • promotional products • apparel
PRINT
Secure checks, legal forms, letterhead, envelopes, labels, catalogs, tags, any hard-copy communication, and direct mail fulfillment services. Ask us about warehousing!
Promotional PRoducts
Customized with your branding, from giveaway items to showstopper 'thank you' gifts.
BRANDED APPAREL
Customized with your branding to outfit your teams and brand ambassadors.